Iftar with Brothers!!!
Just few days b4 Syawal... kita met up for an auspicious iftar... ceh pejer... Yeah... kita ramai2 iftar @ kedai Tin & Zaitun... (Fig n Olive la) hehe...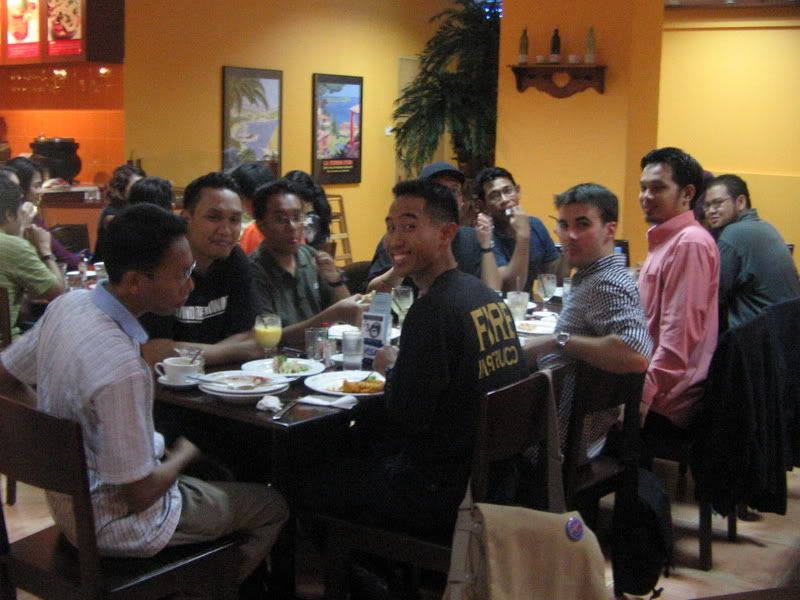 Ramai gak turun... suppose to have like 15 bros.. tapi in the end 9.. tts superb man! Ada Penjual buku @ Khairu, Pelawan Api @ Mohksin, Orang minyak @ Jamil, pilot in dreams @ Asmat, Ustaz Cool @ Hasrudi, Penggali minyak @ Rizal, The Angel @ Khairul Amilin, and not forgetting our new fren, Ira, ok he is an american n-muslim, but he has great interest in Islam n doing sum research in Islamic finance n banking.. cool dude!
Not bad aah kedai dia... dekat ngan mjd bencoolen.. while waiting for the food.. bleh solat 1st... Food was great... n alot! (of course $$$ above ave. price) but.. oklah.. worth the time.. good to catch up... n we caught somebody redhanded... ngah ehem2... tapi takpe.. du'akan mereka.. eeessh... yup...
Nevertheless... its great to meetup everyone b4 the end of ramadhan... haiz touching lah... hehe...
For more, please visit....
http://hafizjenggo.fotopages.com/